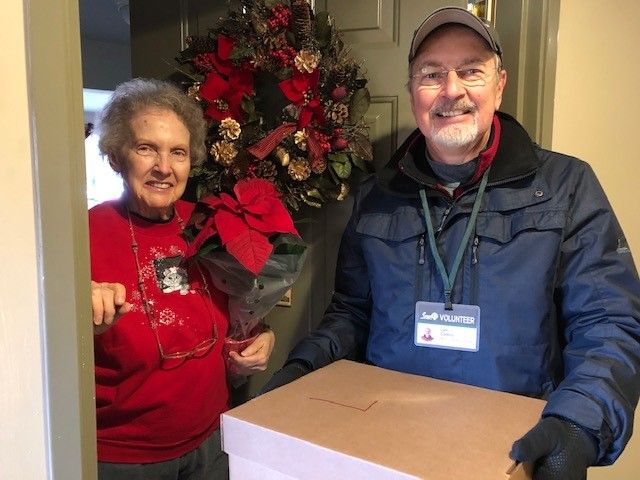 Through the generosity of a wide network of volunteers and donors, 362 boxes full of gifts and food made their way to the homes of Meals on Wheels recipients in Lycoming and Clinton counties. The boxes contained ready to eat or easily prepared foods, cold weather necessities, personal care items, puzzles, mugs, blankets, poinsettias, and more. Donations were gathered this fall, up until the second week of December, then sorted, packed, and distributed to consumers just before Christmas.
This marked the fifth year of STEP administering the project, utilizing resources and volunteers/service members from STEP Office of Aging, STEP AmeriCorps, and Head Start. The Sun Gazette, Lock Haven Express, and Backyard Broadcasting provided extensive publicity and coverage for the donation drive. The media outlets also served as donation drop-off locations, gathering a staggering collection of individual donations to help fill the boxes.

The boxes themselves were donated by Miller Brothers Auto Sales and filled with contributions from local businesses and organizations. Helminiak's Greenhouse & Landscaping provided a poinsettia for each recipient. Donors of cash, goods, and gift cards included: UPMC Health Plan, Geisinger, Clinton County Dental Clinic; Phoenix Rehabilitation & Health Services; Reese's Print Shop; Restless Oaks; Steinbacher, Goodall & Yurchak; Weis Markets; Avery Dennison; Presbyterian Home; Novitas, Charlotte Pipe and Foundry Co., Cranmer's Auto Repair, Centre Concrete, Pat Mumma and Jeri Alrich, and Wegmans. Countless individual donations were delivered to STEP and to the media outlet offices.
Sorting, counting, and packing the donations is possible only because of the astounding work done by volunteers from STEP's Office of Aging programs, service members from STEP AmeriCorps, and community volunteers. The Pennsylvania State Police delivered boxes in Montoursville and Renovo. STEP's Meals on Wheels volunteers delivered boxes on their routes throughout Lycoming and Clinton counties.
While the boxes are a once-a-year occasion, the home-delivered meals program provides regular social contact along with good nutrition for those unable to leave their houses or prepare meals without assistance throughout the year. If you are interested in being a regular part of delivering meals, or part of the Santa's Seniors program, please contact STEP at 570.326.0587.