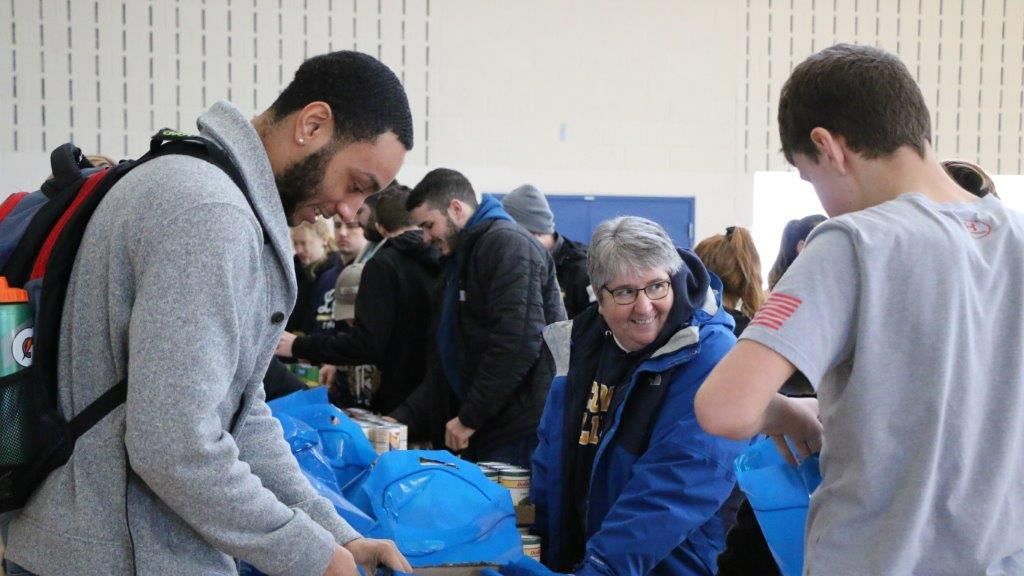 Hundreds of Lycoming County residents will step up to serve as volunteers on the annual Martin Luther King Jr. Holiday. Volunteers will pack nutritious meal kits, joining hundreds of thousands of Americans across the country in volunteer service.

STEP AmeriCorps has planned a day of service in partnership with the Central Pennsylvania Food Bank, Lycoming College, Pennsylvania College of Technology, and the Beloved Community Council that will leverage the strength of volunteers to help tackle local problems and advance Dr. King's dream of opportunity for all. The meal kits, being packed at the Lycoming College Recreation Center, will be given to area families who struggle with hunger through the Food Bank's partner agencies and programs. Refreshments and child care will be provided.
WHO: Anyone who wants to join!
WHAT: "Pack and Share" Packing Event
WHERE: Lycoming College Recreation Center, Lycoming College, 700 College Place, Williamsport
WHEN: Monday, January 20, 2020 from 9:00 a.m.-12:00 p.m.
HOW TO SIGN UP: Head to the "Events" tab at https://www.facebook.com/STEPAmeriCorps/, call 570.601.9677, or email esgale@stepcorp.org.
The MLK Day of Service is part of Dream Week, a series of events in Williamsport centered around MLK Day. On Saturday, January 18, a Peace Walk will commence at 10:00 a.m. at Penn College in front of the Academic Center, 1 College Ave., followed by a musical celebration and speaker featuring performances from Lycoming College Pom & Dance and Penn College Pep Band from 10:45 a.m. – 11:30 a.m. at the Academic Center Auditorium. On Sunday, January 19, from 1:30 p.m. – 4:00 p.m., an Alternatives to Violence Project (AVP) Mini-Workshop will be held at Christ Episcopal Church, 426 Mulberry Street. The packing event occurs on MLK Day itself. In the evening on Monday, January 20, there will be a free dinner from 6:30 p.m. - 8:30 p.m. at the Castellano Center for Community Outreach, 320 Park Ave. Following the dinner will be a "community call to action." On January 22, "Harriet," the newly released movie, will be shown at 6:00 p.m., with doors opening at 5:00 p.m. at Lycoming College's Krapf Gateway Center, in the Troegner Presentation Room. The week will conclude with a powerful message "Never Give Up" with Mike Africa Jr. at the Penn College Klump Academic Center, at 7:00 p.m.
Coretta Scott King said, "The greatest birthday gift my husband could receive is if people of all racial and ethnic backgrounds celebrated the holiday by performing individual acts of kindness through service to others." This January, STEP AmeriCorps and its partners urge everyone to meet a tangible local need – hunger – and fulfill the spiritual need of building community and bridging barriers with fellow participants.

The MLK Day of Service is led by the Corporation for National and Community Service, a federal agency that engages millions of Americans in service through its AmeriCorps and Senior Corps programs and leads the nation's volunteer efforts. For more information, visit www.nationalservice.gov.