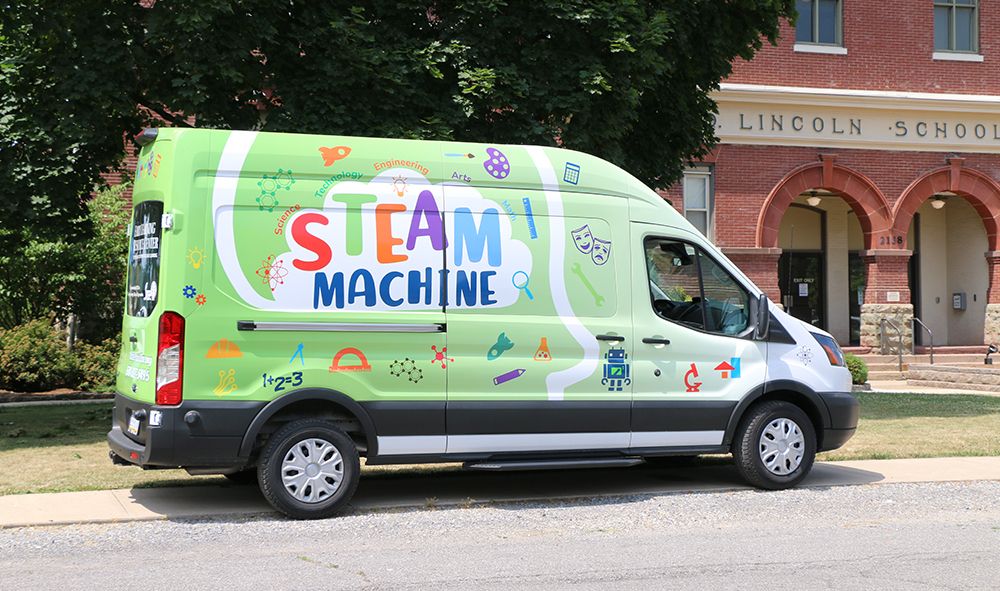 The Early Learning Resource Center (ELRC) Region 7, in partnership with STEP, Inc. has made its concept of a shared-service mobile resource van a reality! The Science, Technology, Engineering, Art, and Mathematics (STEAM) Machine will contain curriculum kits for children age 0- through 13-years-old that will be available for lending to childcare providers. On loan will be STEAM learning kits, mobile MakerSpaces, lesson plans, books, light panels, tablets, microscopes, and much more to make learning fun and enjoyable for children of all ages.
ELRC Region 7 will provide technical assistance and coaching to ensure childcare providers know how to use materials with the intent of encouraging them to work on their continuous quality plans and move up in Pennsylvania's quality rating and improvement system, Keystone STARS. ELRC Region 7 will initially focus on Family Day Care Homes, particularly STAR One providers, bringing them materials and technical support. The possibilities of what the STEAM Machine can offer are endless, and ELRC Region 7 is looking forward to expanding this shared-service through its partnerships.
Featured in the STEAM Machine is the MakerSpace – a portable cart on wheels where young people have the tools and materials to create, experiment, explore, and develop projects that they are interested in while working together and learning how to use tools and materials. MakerSpaces were piloted by the Pennsylvania Key, in conjunction with school-age specialists, in several programs within ELRC Region 7 and tested the success of MakerSpaces as it pertains to the development of Career Ready Skills and curricular supports for our Academic Standards and environments. This cart will be used to show programs how they can set up their own MakerSpaces. The Pennsylvania Key Quality Coach will work with each program at various levels and provide the needed support for sustainable implementation. The MakerSpace Pilot supports the three core principles of Keystone STARS - the whole child approach, staff professional development, and ongoing positive relationships among children, families, and early childhood education professionals. Programs who have received MakerSpace carts have reported positive outcomes and have grown their mobile carts into learning centers where they added extra shelving for materials and tools.
With the realities of the pandemic, many of the STEAM Machine activities have been put on hold - however, ELRC staff has been busy putting together care packages, creating curriculum kits, and working on inventory and loaning software! The first road trip will be to deliver care packages to all of ELRC Region 7's childcare providers within the three-county region.
About STEP, Inc.
STEP, Inc. is one of 1,100 Community Action Agencies nationwide, and a member of the Community Action Association of Pennsylvania. Founded in 1966 and formally known as the Lycoming-Clinton Counties Commission for Community Action (STEP), Inc., the agency recently celebrated 50 years of partnerships and service to the community. The mission of STEP, Inc. is to engage diverse individuals, families, and communities in the pursuit of social and economic success. STEP, Inc.'s mission is accomplished through five Pathways to Success: Early Learning, Housing Options, Workforce Development, Community Collaboration, and Independent Living.