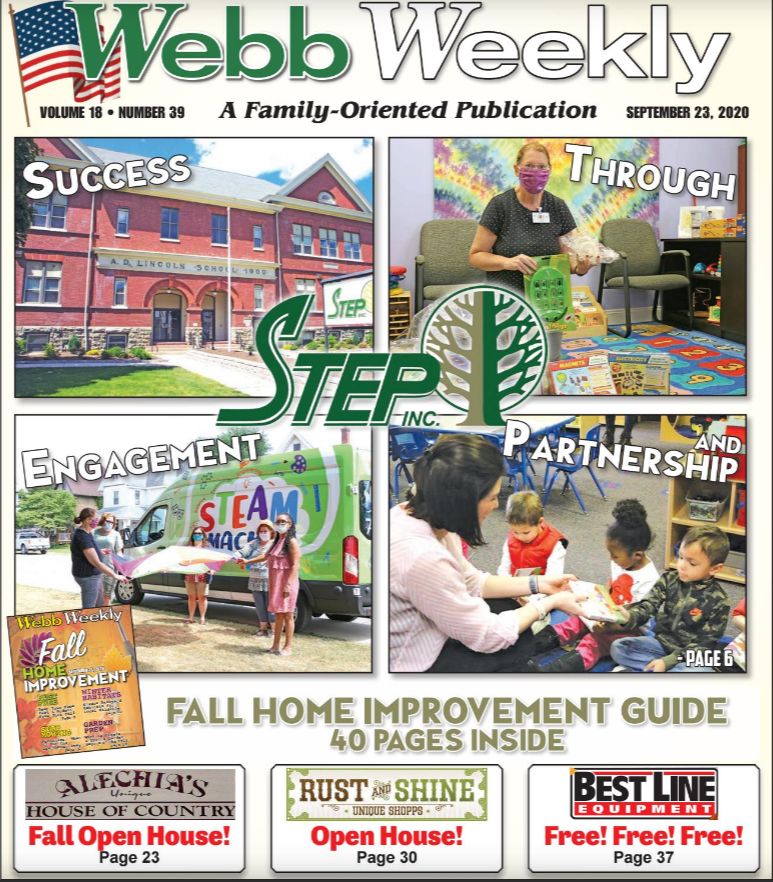 Courtesy of Webb Weekly
For more than 50 years, STEP has been offering various social services to the citizens of Clinton and Lycoming counties. But no year has posed a greater challenge to its ability to deliver those services than in this year, the "Year of COVID-19." STEP has managed to soldier on and adjusted the way they have delivered these services this year.
Sticking to the mission and a timely reassessment of changing community needs have kept Lycoming-Clinton Counties Commission for Community Action (STEP), Inc. going through a turbulent 2020. "We are an anti-poverty agency, and following that guide, along with asking our customers what needs they see, keeps us on track," Jim Plankenhorn, STEP President and CEO told Webb Weekly. "If we went after every grant that popped up on our radar, we would be overstretching our resources, losing focus, and not responding to the barriers our customers have told us they are experiencing. Just as it has been throughout its 54-year history, STEP (and Community Action in general) has been called to respond in unprecedented ways during this uncertain time."
Spring 2020 saw STEP limit foot traffic at facilities while keeping most services available with minimized face-to-face customer interactions. Through the height of the pandemic, STEP Transportation continued to provide essential trips, including medical appointments and grocery shopping. At the same time, STEP Service Navigation was inundated with requests for assistance from individuals who had never been unemployed or unable to pay for their monthly expenses prior to the pandemic. STEP Office of Aging continued operations focused on meeting the needs and calming fears of our senior population.
The agency opened up by appointment-only in June, and continues to offer service without physical contact when possible. The STEP Office of Aging's Centers for Healthy Aging are  operating on a reservation basis for activities and lunches; Meals on Wheels delivers seven frozen meals once a week with additional check-ins throughout the week to protect our most vulnerable senior population. 
This spring and summer, when many service sites shut down, STEP AmeriCorps members put together CARES packages in conjunction with STEP Office of Aging, and made deliveries of necessities to individuals unable to leave their homes, completed online trainings, and more, to meet their service requirements. After coming through the pandemic restrictions with creative service projects, STEP AmeriCorps has started its 2020-2021 year.
STEP Housing and Building Initiatives, which was affected by the stoppage of construction, is gradually returning to pre-pandemic project levels. STEP's Utilities Assistance Programs, including PPL and UGI Customer Assistance Programs, are fully operational and ready to help those who have income changes during this time.
In response to COVID-19, some funding sources have seen an increase in their maximum income, meaning that those who may not have qualified previously are now eligible. For example, customers up to 200 percent of the Federal Poverty Income Guidelines (FPIG) are now eligible for case management through Service Navigation. At the same time, families up to 250% of the FPIG may be eligible for utility assistance through Operation HELP. For a family of four, that is $52,400 and $65,500 per year, respectively.
STEP Head Start Classrooms closed along with all Pennsylvania schools. They are starting the 2020-2021 school year with virtual learning, with the goal of moving back to physical classrooms as the year progresses.
Outside of COVID-19, STEP has continued to adapt and grow in recent years. A Community Needs Assessment was completed in 2018 with partners Lycoming College, the United Way of Lycoming County, and the First Community Foundation Partnership of Pennsylvania. Another was completed by STEP in early summer 2020 to gauge the needs brought on by the pandemic, and an additional assessment is planned for Fall 2020. Needs Assessments are required every three years at a minimum, but also when a major event has affected an area. The results affect what programming is strengthened, kept, or even eliminated as needs and community resources change.
In 2018, STEP's Child Care Information Services (CCIS), which administered childcare subsidies only in Lycoming County, transitioned into the Early Learning Resource Center (ELRC) for Region 7, serving Lycoming, Clinton, and Tioga Counties. In addition to growing geographically, the ELRC provides more services, supporting childcare providers to provide higher quality care by moving through the Keystone Stars system while still administering child care subsidies so caregivers can work or go to school. To promote awareness and discussion of our nation's childcare shortage and crisis, ELRC intended to host a screening of "NO Small Matter" at the Community Arts Center in March. Initially rescheduled for October, this even has been further postponed. However, ELRC has successfully completed and deployed their STEAM Machine. This customized van is used to get science, technology, engineering, arts, and mathematics learning materials and equipment to childcare providers for use at their facilities. The ELRC is a critical support for childcare providers during this time as many struggle to stay open and navigate new regulations.
A major community level project, the expansion of the Loyalsock Township Recreation Center to fully house STEP's Loyalsock Center for Healthy Aging, was prevented from having a grand opening on March 12, as pandemic cancellations began in full force. After being in progress for years, the joint project between STEP and Loyalsock Township has brought all of STEP's Center for Healthy Aging services and opportunities - from the coordination of meals for homebound individuals, fitness and wellness activities, and various social offerings - under one roof. The new location allows for expanded programming including fiber crafts, arts, book clubs, gardening, and more. The center additionally allows Loyalsock Township to serve more of their students through before/after school and summer programming.
STEP Transportation is fully operational, with safety precautions in place to protect riders and drivers. They continue to improve their customer service experience. By visiting www.stepcorp.org/ride.html, riders can start the reservation process online and receive a confirmation via email or phone call, eliminating the need to wait for a customer service representative and alleviating heavy call volumes and long wait times for those who prefer using the phone. Additionally, Transportation is working on providing new customers with a shorter application that can be completed electronically. 
STEP Service Navigation responded to the already urgent housing needs of Lycoming County through the continued operation of case management-focused Supportive Housing Program and administering the PHFA-funded CARES Rent Relief Program beginning in July. Currently, applications for the CARES Rent Relief Program need to be submitted by September 30.
"While we have been a constant resource for over 50 years, STEP, as a Community Action Agency, is uniquely well-suited to react to social and economic crisis. Our structure and management keep us ready to react effectively to significant changes, and to look at our results critically," said Plankenhorn.
"Moving into 2021 and whatever changes it may bring, STEP is dedicated to a deeper understanding of how, alongside their customers and partners, they can make our area a better place to live and work for the diverse individuals, families, and communities who live here."
For more information about all that STEP offers in addition to the services highlighted here, visit www.stepcorp.org or call 570-326-0587. STEP is currently open my appointment only from 8 AM - 5 PM, Monday through Friday.