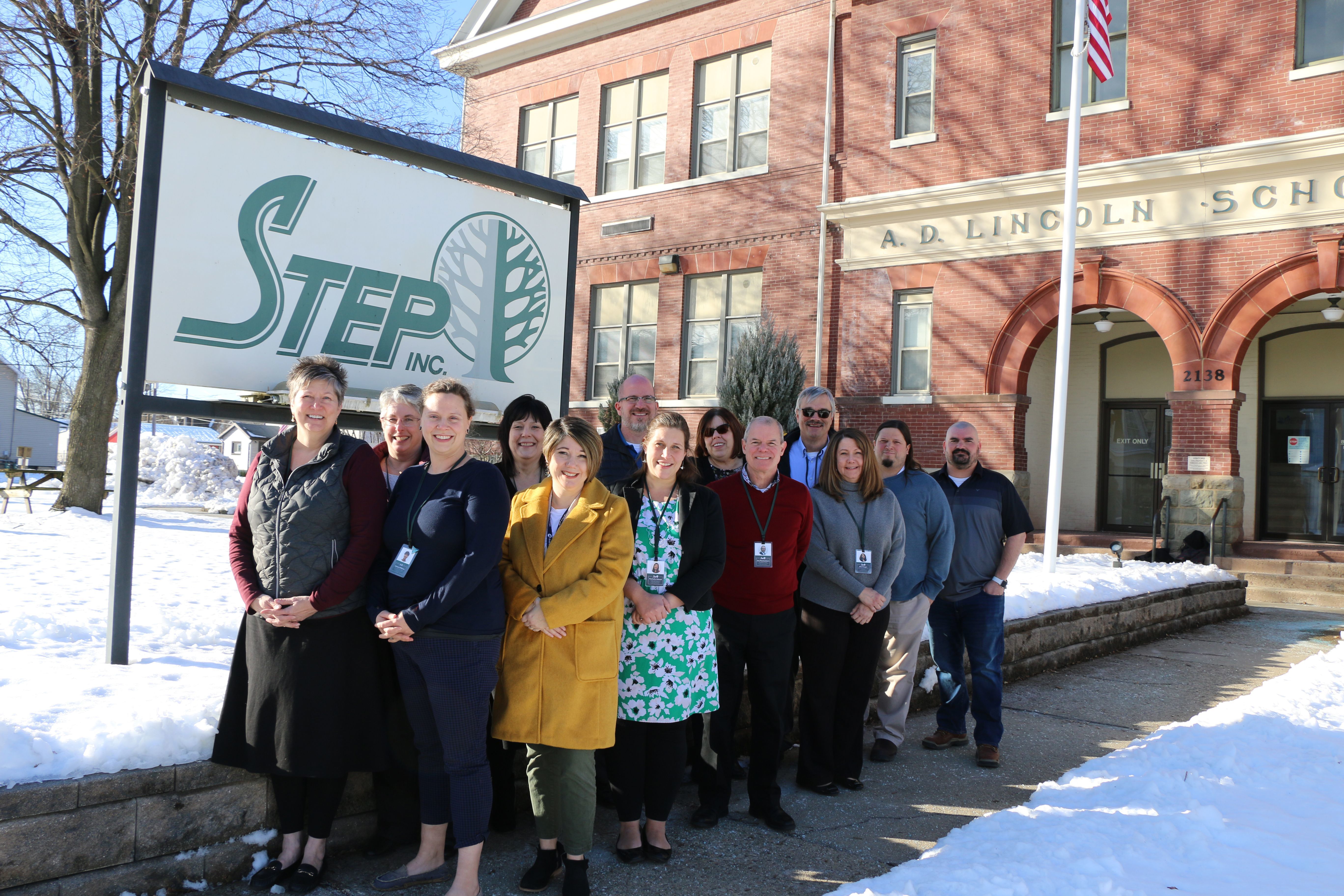 According to their website, the Lycoming-Clinton Counties Commission for Community Action (STEP), Inc. is a private, nonprofit Community Action Agency and was incorporated in 1966. STEP stands for Success Through Engagement and Partnership. STEP's mission is to engage diverse individuals, families, and communities in the pursuit of social and economic success. STEP accomplishes its mission by serving customer needs through dozens of different programs categorized into five different pathways: Early Learning, Housing Options, Workforce Development, Community Collaboration, and Independent Living. As part of a community of agencies serving the region, STEP is the Community Action Agency, working to positively impact the whole person and family, helping them become or remain independent and mitigating the causes and conditions of poverty.
Among the many programming needs in Lycoming County, housing is an especially critical area of need. Throughout the community, there are many resources to support housing stability for families, and STEP offers several housing programs, including the Emergency Rental Assistance Program for Lycoming County. This program is for residents of Lycoming County who need rent and utility assistance and meet certain qualifications. Specifically, the Emergency Rental Assistance Program 1 can assist residents for up to 15-months if they have been affected by COVID-19. Additional funds through the Emergency Rental Assistance Program 2 extends the timeframe by three months, for a total of 18 months. Applications can be found at http://www.stepcorp.org/LycoRent.
STEP also continues to offer the Supportive Housing Program, which supports families in crisis to get back on their feet and secure stable housing. STEP is a walk-in location for homeless individuals to register with 211. STEP also has limited funding through an Emergency Solutions Grant to help secure temporary housing, such as hotel rooms for homeless individuals. This month, STEP is rolling out a new mortgage assistance program for those affected by COVID-19 in the areas of Jersey Shore Borough, Montoursville Borough, and the rural areas of Lycoming County. Unfortunately, residents of the City of Williamsport, Loyalsock Township, and South Williamsport Borough are not eligible for the mortgage assistance program. This assistance is for three months of mortgage arrears if qualifications and income guidelines are met.
One of STEP's better-known program categories is transportation. STEP Transportation provides services to residents of Lycoming and Clinton counties. There are several funding streams with different eligibility criteria, including Persons with Disabilities (PwD), Medical Assistance Transportation Program (MATP), Area Agency on Aging (AAA), Pennsylvania Lottery, and the Employment Transportation Assistance Program (ETAP). Additionally, STEP Transportation provides safe and accessible transportation for STEP Head Start students.
STEP Office of Aging sponsors trips for individuals ages 60-64. Eligible trips include grocery shopping, trips to STEP Centers for Healthy Aging, trips to social service agencies, and medical appointments/medical needs within Lycoming and Clinton counties. Transportation for customers age 65 and over is provided by the Lottery Shared-Ride program. This funding source covers a wide range of trips, including medical, social, educational, employment, shopping, family gatherings, or to sustain independence and remain a part of the community. MATP funding provides transportation to appointments with medical providers that accept the PA Access Card. MATP customers can also receive reimbursement for using a private vehicle or RVT fixed route transportation for approved trips. ADA Transportation is available for all residents with disabilities located within 0.75 miles from any River Valley Transit fixed route. River Valley Transit contracts with STEP Transportation to provide this service to all ADA-registered customers. Persons with Disabilities funding covers any customer with a permanent or temporary mental or physical disability. STEP Transportation programs range from no cost to a flat cost or mileage-based fee structure. Additionally, anyone living in or visiting the STEP Transportation service area can ride for a mileage-based fee to anywhere in Lycoming or Clinton counties.
Early learning is another program category that serves the region's families. Early Head Start, Head Start, Pre-K Counts, and the Maternal, Infant, and Early Childhood Home Visitation Program (MIECHV) serve children and families from prenatal up to kindergarten eligibility. Children and families are served through home-based and classroom-based programs depending on their needs. In addition to providing the skills for school readiness, families are strengthened by being active partners in their children's learning. Participants also receive dental and vision care through partnerships with local mobile providers. Eligibility is not just income-based but also takes into account factors such as disabilities, foster status, and homelessness.
In addition to Head Start and related programs, STEP supports caregivers seeking childcare and childcare providers through the Early Learning Resource Center for Region 7 (ELRC). The ELRC serves Lycoming, Clinton, and Tioga counties. The ERLC administers subsidized childcare and supports providers to increase their quality.
In addition, STEP provides programs beyond housing, transportation, and early learning. As a Community Action Agency, all of STEP's programs are mission-driven and anti-poverty. STEP monitors and adjusts programming based on recorded outcomes and the community's changing needs. STEP pursues results at individual, family, and community levels. In late 2021, STEP completed its tri-annual Community Needs Assessment with the assistance of its partners, customers, and staff to ensure that the programs it offers meet the gaps in programs and services in the Lycoming and Clinton counties region. The Community Needs Assessment for both counties provides an abundance of information for partners, funders, and the general public, which can be found on STEP's website. Since STEP cannot meet all of the needs identified in the community, it has partnered with many public, private, and nonprofit organizations in the region.
Community-level work is an especially effective use of resources, as these initiatives benefit all residents and not just individuals directly involved. Recent community-level projects include: expanding transportation in Clinton County; the rehabilitation of existing buildings such as STEP's Lincoln Street campus, the Round Hills Campus, the former K-Mart plaza in Lock Haven; the construction of two new Centers for Healthy Aging; the RiverWalk Center and the Loyalsock Center.
The Housing Options pathway provides weatherization, owner-occupied housing rehabilitation, and utilities assistance. These programs help households reduce their energy burden and improve health and safety outcomes while increasing or stabilizing property values.
Workforce Development, though the Work Ready program, partners with the County Assistance Office to provide individuals receiving Extended Temporary Assistance for Needy Families (also known as cash assistance) to overcome barriers to employment, obtain work experience, and aims to assist them through and beyond obtaining employment at or above a living wage.
Many of STEP's rental assistance programs are part of the Community Collaboration pathway. STEP Service Navigation is an evolving mix of case management programs, some of which include financial assistance, that works with customers to tackle the multifaceted barriers that may be keeping them from stability or self-sufficiency. Additionally, STEP AmeriCorps provides high-quality volunteer service members to local nonprofit organizations to increase their capacity while giving those service members a chance to pay for past or future educational expenses.
In addition to STEP Transportation, the Independent Living Pathway contains the STEP Office of Aging, which provides a wide range of social services to older adults in our community. STEP Office of Aging also operates eight Centers for Healthy Aging, providing vital social engagement and health/nutrition supports.
It is important to note that while STEP provides many and varied programs, they also rely upon many partners to support or complement their mission. Other nonprofits and local and state government agencies serve alongside STEP either through their programming or their funding support. As a community of agencies here to serve, STEP and its partners collectively do their best to serve the needs of area residents, helping them and their families in their journey to social and economic success.